BIG GREEN EGG GRILLS
What came first the chicken or the Egg?
Who cares? Throw the chicken on the Big Green Egg and let's eat! Spartan Pools is Saginaw's only Big Green egg Dealer!
Grill | Sear the perfect steaks, pork chops or burgers on the EGG. High temperature "steak house" grilling – even at 750º F / 400º C – is quick and easy! Using the two dampers for accurate control, you can lower the heat to a more moderate temperature for other grilled foods. Fish and seafood turn out moist and tender with a flavor-packed crust unmatched by other grills.
Oven | Using the indirect cooking method with a Plate Setter, the Big Green Egg bakes bread, pizza, casseroles, cobblers and pies better than your kitchen oven … you may never cook indoors again! The Big Green Egg retains heat and moisture so well that foods don't dry out! Poultry, lamb, beef and vegetables are naturally tastier because the juices and flavors stay locked inside.
Smoker | The insulating ceramics of the Big Green Egg allow you to precisely control the temperature even at low heat. A controllable 200 to 350°F / 93 to 177°C gives succulent results with turkey, ham, lamb, chicken, ribs or any of your favorite cuts, infusing them with the aromatic wood smoke flavor. Want to slow cook at low heat for sixteen to eighteen hours … no problem!
The Only Outdoor Cooker You Will Ever Need! Which Egg fits your BBQ needs?
We have Grill Demo's through out the summer! Check on our Facebook page for current scheduled demo days.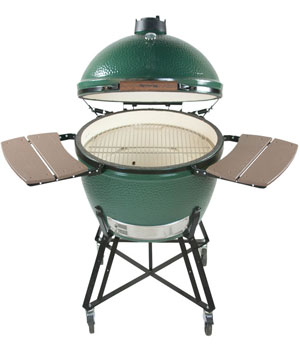 EXTRA LARGE GREEN EGG
The Biggest Green Egg of them all provides a cooking area that can easily accommodate meals for large families and cookouts with all your friends – and you can efficiently prepare several meals over the coals at once. Ready to serve up fourteen racks of ribs, twenty-four burgers or a couple of holiday turkeys with all the trimmings? No problem!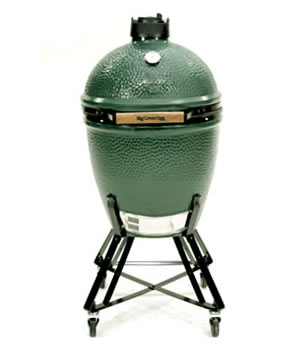 LARGE GREEN EGG
The Large EGG is the most popular size and a favorite to handle the cooking needs of most families and gatherings of friends. Accommodates all EGGcessories for baking, roasting or smoking – and it's versatile enough for weekend cookouts, pizza parties, eight steaks at once, and efficient enough for an impromptu meatloaf for two!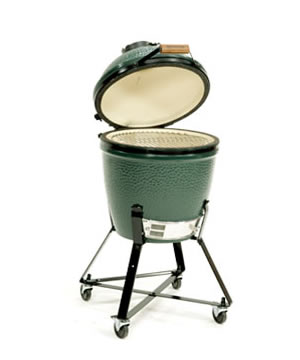 MEDIUM GREEN EGG
Happiness in a smaller package – the Medium EGG is perfectly sized for smaller families and couples, and accommodates all the most popular EGGcessories like the Plate Setter and Baking Stone. Get all the famous Big Green Egg versatility and efficiency in a smaller package with plenty of cooking area to accommodate a backyard cookout, four steaks or two whole chickens.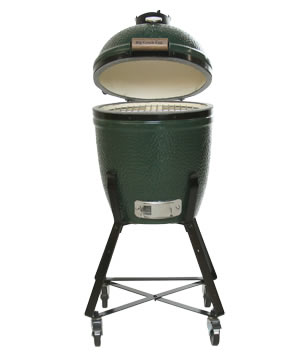 SMALL GREEN EGG
Big Flavor in a compact package! The Small EGG is an easy fit for smaller patios and balconies, and is able to prepare four burgers or chicken breasts at a time. The small Egg is often used as a companion for the XLarge, Large or Medium EGG to allow the preparation of several courses at once, and is perfect for restaurants seeking the performance of an EGG in a size to fit a commercial kitchen.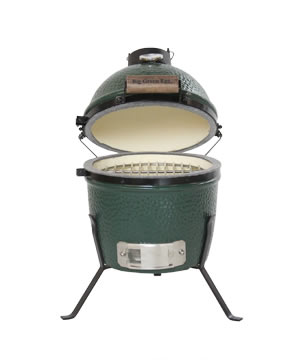 MINI GREEN EGG
A MINI EGG is the perfect solution for picnics and tailgating when you want to take The Ultimate Cooking Experience with you! It is also a popular size for grilling on apartment balconies or camping and boating. Leave those propane canisters at home and enjoy your favorite campfire meal on the MINI!