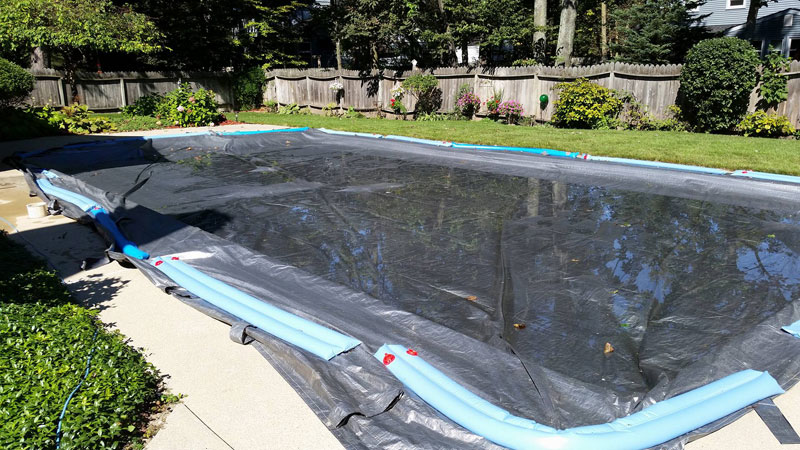 Repair, Service and Maintenance
Looking for pool repair? Spartan Pools knows swimming pools. We've been installing, servicing, and repairing pools and pool equipment in mid-Michigan since 1961.The advantage of choosing to work with Spartan Pools is much more than bottom line; it's peace of mind. If you live in the Great Lakes Bay Region, we will be happy to send our service technicians out to your pool as quickly as we can. Pool cleanings, openings, and closings are our bread and butter. Ask about Early Bird Specials!
Is your Pool Showing Its Age?
Are you not using the pool as much as you did when it was new? Do wrinkles, holes, and tears in your vinyl liner have you losing water and losing patience? Has the liner in your pool started to fade or become too brittle to trust? It may be time for a new liner.
Spartan Pools has been installing liners in the Mid-Michigan and Great Lakes Bay Region for half a century. We have the experience and know-how to replace your old liner and have you swimming in luxury and comfort in virtually no time at all.
The crew of pool technicians at Spartan Pools will measure your pool to its exact liner specifications, drain the pool, remove the old liner, and install a new liner of your choice. Liners are available in hundreds of unique size, color, and design choices.
Liner, labor, and new water are warrantied. We will even take a water sample and bring your pool back to where it was chemically. Satisfaction is guaranteed.
If your concrete deck is need of attention, we do that too! We will remove, and replace your deck with all new reinforced concrete. Even the coping and plumbing of your pool (if it is in bad shape) can be replaced at the time of a reline.
Spartan Pools services, installs, and repairs only in Mid-Michigan and its surrounding areas. Some special arrangements can be made. 
Equipment Repair
Is your….
Pump making loud noises?
Pool liner falling out of the track?
Filter blowing sand into the pool?
Pool leaking water and you're not sure where?
Pool heater not staying lit?
Concrete deck heaving and cracked?
Does your….
Pool pump lose its prime?
Pool pump just hum and do nothing?
Pool filter need a sand change?
Pool equipment need to be replaced?
Pool heater refuse to light?
We can help!