Helpful Fall Pool Closing Tips!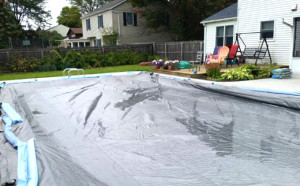 It's that time of year! WE had a blast over the summer and now sadly our swimming season is coming to an end. We have compiled a few helpful tips and recommendations for your pool closing.
In-ground pool closings….
Tip: It is best to wait until the water is below 65 degrees F  – colder water temperatures slow the growth of potential algae in the pool.This also means you may want to turn off your pool heater in advance to let the water temperature lower in your pool before you add in your closing chemicals. Warmer pool water depletes the pool chemicals faster than cold water.
Clean …..
Clean dirt, leaves, and other debris from the pool – making sure your pool is free from dirt, debris and other phosphate eliminates a food source for potential algae.
Balance…
Bring in a water sample to Spartan Pools to ensure proper water balance for winter, it will prolong the life of your pool. You'll thank yourself in the long run…
Add in the winter chemicals and any balancing chemicals as needed. IT is important to have the proper level of alkalinity, PH, and calcium. If left undone,                    liners could potentially wrinkle and concrete could form pits. Yikes!
Water Level…
For Mesh covers lower the water level to the low end of the skimmer
For Concrete pools lower the water well below the tile line.
For standard covers you may leave the water level at mid- skimmer if we are closing your pool.
If you are closing the pool on your own, some choose to lower the water below the skimmer and returns. After you insert the winter plugs you may want to        consider putting a little bit of water back in. Why?  Because If you have a yard that gets saturated with ground water in spring it would cause your liner to float. It may float when the ground water is at the same level as your pool water. When it  lays back down after the ground water has receded  it doesn't always want to go back in the same position and you may end up with wrinkles on the floor.
Be sure to….
Have plugs, water bags (if applicable), and covers out by the pool for the closing.
If you are closing the pool yourself you will want to use an air compressor or a shop vac to blow out the lines and equipment.
Take the trippers off of your timer
Empty any chlorine tabs or sticks out of skimmer or chlorinator (if applicable)
Winter Covers…
If you are using a standard style cover water bags are recommended for holding the cover down. If you use bricks or other heavy and sharp objects they could potentially harm your pool if they were to fall in.
Check for any holes in the cover and consider replacing it if it looks like it will let in too much of the fall debris. Think of debris as algae food.
There are many standard cover replacement options to choose from with different warranties. You will often find a good, better, or best selection to choose from. You can decide if  you would rather go with a cover that is inexpensive and may only last you a year or a heavier cover that will have a longer life and warranty with it.
Other than a standard cover, some may choose to go with a safety cover that often resembles a trampoline.  These are anchored into the concrete or wood deck to help provide stability in the cover.  You may choose between a mesh safety cover that lets the water run through or a solid safety cover that will need to have the water pumped off. Again, these covers also come in a variety of durability and grades of mesh.  It is recommended to see samples of these covers ahead of ordering and are often custom made for you particular shape of pool. If you are seeking more information on these covers to see which would be right for you, you are welcome to give us a call and we can discuss your pool in particular.
Of course, we offer the services of closing your In-Ground pool for you with various options as to how involved you may or may not want to be. It's best to call the store for those options and prices.
Appointments often fill up quickly. It is not uncommon to be scheduling appointments 2 – 3 weeks out unless you called and scheduled your appointment well in advance.
 Above Ground Pool closing check list…..
Make sure the water is properly balanced and debris is cleaned from the pool.
Circulate the closing chemicals  1/2 day  – 1 day prior to closing. If you are able to circulate the chemicals after the water is drained down you may do that as well.
Drain down the water below the skimmer and return line.
Remove the hoses from the skimmer and return.
Remove the drain plugs from the bottom of the equipment.
Secure the air pillow in the middle of the pool.
Put on the winter cover and cinch it down tight.  If you are in a windy area you may want to use cover clips or cover seal wrap to surround your pool cover.
Empty any chlorine tabs or sticks out of skimmer or chlorinator (if applicable)
Disable the pump timer (if applicable)
Tip: If you do not have a mesh cover you will want to pump off any excess water that may collect on the cover through out the fall, winter, and spring.
Have a safe fall/winter!