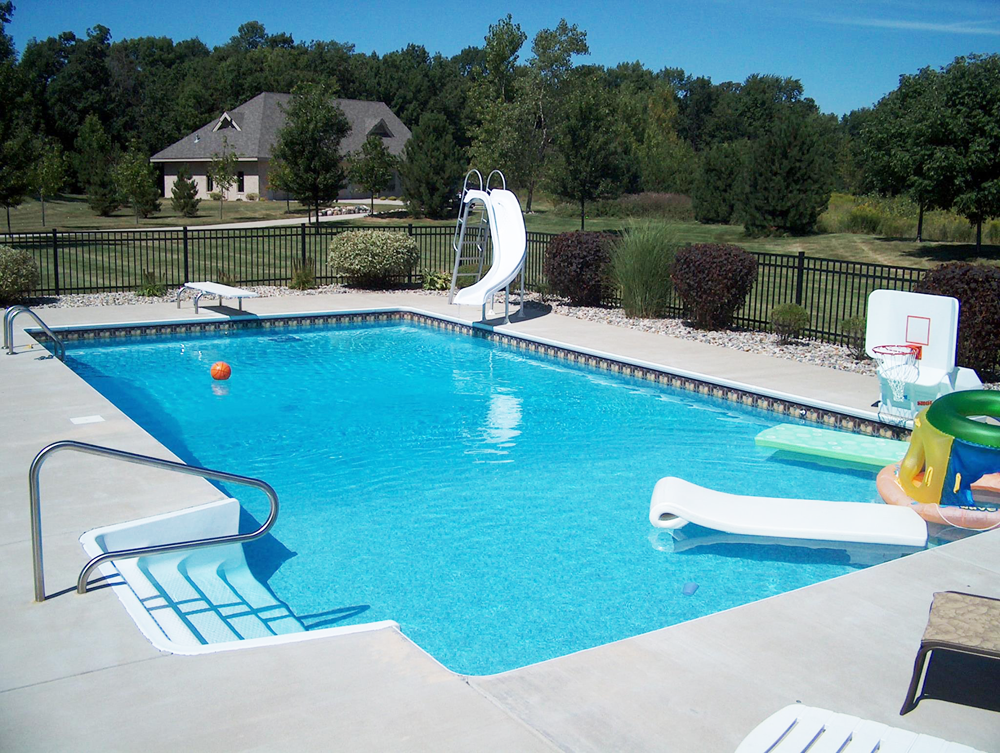 In Ground Pools
In ground swimming pools can transform your backyard into a relaxing retreat or the focal point of fun and activity. In ground pools can also enhance the look of your backyard. To ensure a great experience, your in ground pool is designed from the ground up to exceed your family's expectations in terms of quality and style, and to provide many years of enjoyment. We will be happy to meet with you and review all of the options and benefits of owning an in ground pool. We will also assist you in all the stages of your purchase, from selection to offering professional installation and service. With our support, you will find the perfect pool for your home and budget! Enjoy the many benefits Spartan Pools In Ground Pools can provide.
Vinyl Liner Pool Construction
Spartan Pools specializes in Vinyl Liner In ground Swimming Pools. A vinyl liner allows you to pick the style, color, and design of your pool, as well as protect your pool from Michigan's ever-changing climate and conditions. You pick the size and shape, as well as what features you desire (diving board, slide, lights, fountains, stamped/colored/textured concrete, etc.), and we do the rest.
We're with you from the beginning of your pool planning to the end and every summer after that.
We dig the hole to spec; aided by laser technology and years of excavation experience. We set in place galvanized steel panels and cement them in to form sturdy, lifetime guaranteed, pool walls. We create a hard-bottom pool floor that withstands Michigan's harsh weather conditions. We install only the most high quality liners from suppliers we trust. We do our own flat work. We do all this for you to ensure the pool you get is the pool you want. Accept no substitutes!
Looking for ideas?  Check out a few of Spartan Pools' previous installs in our gallery!
Our pools are backed by an unmatched warranty/guarantee for your peace of mind.
We make sure (every step of the way) that you have invested in a quality pool that affords every bit of relaxation and enjoyment you and your family deserve.
REQUEST A QUOTE TODAY!
Spartan Pools has been installing in ground pools for more than 50 years. Drawing on experience, rigorous training, and the use of cutting edge technology, our crew of knowledgeable installers will have you swimming in the lap of luxury this summer and every summer in the future.
Fast, easy financing is available: